Name
Keith Ritter
Phone
602-908-5020
Mobile
602-885-2018
Fax
602-908-5020
Pager
602-885-2018
Toll Free Phone
Address
7025 W Bell Rd #10
City
Glendale AZ 85308
Country
US
Alternate Website
http://www.peoriaazrealestate.com

---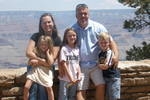 A Tradition of Trust
I have been a professional REALTOR® for many years and have built a reputation throughout the community as a REALTOR® to count on for results with a personal touch.

I specialize in residential property sales, Short sales, Bank owned properties, relocation and new home sales throughout the community.

My multi-tiered sales program includes advertising in metropolitan and local newspapers, a compelling direct mail campaign, and networking with REALTORS® throughout the area to find the right buyer for your home. I am determined to provide you with the finest service in the industry today, which will spur the sale of your home at a premium price.

I was in real estate when interest rates hovered around an all time high. Regardless of the economic climate, I have succeeded in helping people reach their goals and make the most of their purchasing power.

Selling your home is often an emotional experience, but it needn't be a trying one. I am dedicated to making your next real estate transaction rewarding and hassle-free.

When you have made the decision to sell your home or buy a new one, call me and I'll outline an effective plan that takes into consideration all of your goals and needs.

My team approach to real estate sales has proven to be quite effective. To ensure a smooth closing, I insist upon constant communication between everyone who may affect the outcome of a transaction. First and foremost, I talk with my clients frequently and keep them abreast of the progress of their transaction. I also make regular contact with lenders, appraisers, etc. to make sure that their end of the business is being attended to and that the sale closes on time.


Over the years, I have had the opportunity to experience the ins and outs of the marketplace. Under these circumstances, I have helped people make transitions under some painful circumstances. Although I have always considered myself a compassionate person, I have developed a deeper understanding of how emotional the home selling and buying process can be during this period.
The tenor of my career has been shaped by these experiences. I have been told that I am easy to talk with and that I have infinite patience helping people find the home of their dreams. My greatest asset, however, is my sense of humor. I laugh often and have a knack for putting people at ease.
Regardless of market conditions, I have a crystal clear vision of what it takes to be successful in helping people accomplish their real estate goals. I understand that Caring About what other Care About is what Caring is All About.
Call me today for a personal consultation and free market analysis. I look forward to meeting with you and working together to meet your goals.